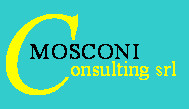 Cooperative member
Established in Rome in 1987, Mosconi Consulting is an company with a capital stock of 11.000 euro, which provides enterprises with complementary services thanks to the consulting support by many experts in juridical, administrative, accountant and organizational fields.
Location: Rome, Italy
Web site: http://www.mosconi-consulting.eu
Its main activities are:
Editing and forwarding information and updating "letter" on normative matters for the cooperatives working in the region Liguria, associated to Legacoop cooperatives league.
Organizing and carrying out training courses, study-days and seminars dedicated to managers, cadres and clerks in companies. This has been done paying a special attention to normative news regarding the Companies Code reform (with special reference to Cooperative Societies), the Income Tax reform (IRES) and the International Accounting Scheme (IAS). It has also edited informative and popular pamphlets concerning these themes.
Organizing, compiling and managing databases, such as that published on the Elpendù web site, which regards juridical, fiscal, administrative and employment aspects which social cooperatives are concerned with.
Documental and statistic survey.
Budget analysis and re-qualification.
Planning and management of an on-line service based on providing answers to questions concerning cooperative companies.